Minecraft Forge (1.18.2 → 1.19, 1.19.3) is a game utility, more precisely an application programming interface (API) for Minecraft games, which supports users to install other mods of the game with the highest compatibility. The program gives players the option of setting up a dedicated game server and sending invitations to other players.
After downloading 
Minecraft Forge
 to your computer, just a few quick installation steps will help you discover the utilities that the program brings. Players just need to drag and drop files from the Minecraft game's installation directory to the Mod folder.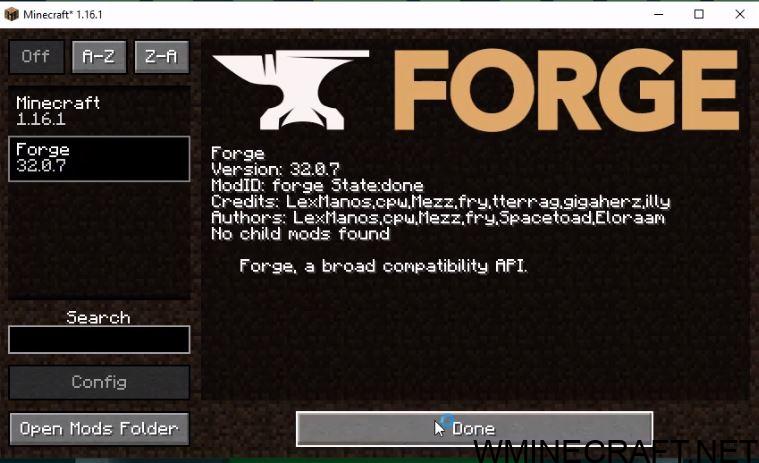 It provides a standardized platform for mod developers to create and distribute their mods, ensuring compatibility and stability with other mods and the base game.
Why Use Minecraft Forge? There are several reasons why players and mod developers choose Minecraft Forge as their go-to modding platform:
Compatibility: Forge is designed to ensure that mods work seamlessly with one another, preventing crashes and incompatibility issues.
Easy Installation: Forge streamlines the mod installation process, making it quick and straightforward for both developers and players.
Wide Range of Mods: As a popular choice for modders, Forge supports thousands of mods, providing players with endless possibilities for customization.
Minecraft Forge vs. Fabric Mod Loader Fabric is another popular modding API for Minecraft, and while both platforms offer similar functionality, there are some notable differences:
Forge focuses on providing a stable and backward-compatible platform, which is essential for large modpacks and long-term projects.
Fabric is known for its lightweight and fast performance, making it an excellent choice for players who want to use only a few mods or play on lower-end hardware.
Forge has a larger mod library, while Fabric offers more cutting-edge mods and faster updates to new Minecraft versions.
How to install:
Download Minecraft Forge installer.
Run installer as Administrator.
Select Install Client or Install Server if you want to install for your server.
Hit OK.
Open Minecraft launcher and select Minecraft Forge in Profile menu (Ex: Forge 1.19.3…1.11…).
Run game and explore your new mod.
Minecraft Game version 1.7.10
Recommended

Installer (Jar): Download from Server

Installer Windows (Exe): Download from Server

Universal: Download from Server 

Latest
Frequently Asked Questions (FAQ)
Q: How do I install Minecraft Forge? A: To install Minecraft Forge, follow these steps:
Download the appropriate version of Forge from the official website (https://files.minecraftforge.net/). or this here
Run the installer and select the "Install client" option.
Launch Minecraft and select the Forge profile in the launcher.
Enjoy your modded Minecraft experience!
Q: Is Minecraft Forge safe to use? A: Yes, Minecraft Forge is safe to use, as long as you download it from the official website. However, be cautious when downloading mods, as not all of them are safe. Always download mods from reputable sources and read user reviews to ensure their safety.
Q: Can I use Forge and Fabric together? A: While it's technically possible to use both Forge and Fabric simultaneously, it's not recommended due to potential incompatibilities and instability. It's best to stick with one modding platform to ensure a stable gameplay experience.
Q: Do I need to update Minecraft Forge for new Minecraft versions? A: Yes, you'll need to update Minecraft Forge whenever a new version of Minecraft is released. Mod developers will also need to update their mods to ensure compatibility with the new version.
Conclusion: Minecraft Forge is an essential tool for players looking to enhance their Minecraft experience with mods. Offering seamless compatibility, easy installation, and access to thousands of mods, Forge is a popular choice for modding enthusiasts. While Fabric offers a lightweight alternative with faster updates, Forge's focus on stability and backward compatibility makes it the preferred choice for many players and modders. Happy modding!