Want to improve your current Youtube experience? For users who spend more time watching videos on Youtube than Facebook-ing, here's a set of five essential Youtube extensions for Google Chromethat provides new and missing features to Youtube.
Try them, you will love them all!
1. Turn Off the Lights
Want a cinema-style movie watching on Youtube? Try Turn Off the Lights extension. With a click of button, the entire screen will fade to black except the video, so that you can focus only on the video as if you were in the cinema.
Other options include the ability to automatically fade to black when you hit the play button and change the black opacity, among others.
2. Magic Actions for Youtube
This extension adds tons of missing and useful options to Youtube, thus making your video watching experience on Youtube a smooth one.
Magic Actions for Youtube gives you instant control on the volume by scrolling mouse wheel, cinema backlight feature, auto HD feature, auto wide feature, ability to block ads and auto-play, hide annotations and show extra details for the comments. There's more waiting for you to discover.
This is the cinema mode.
Install Magic Actions for Youtube
3. Youtube Feed
If you subscribe to quite a number of users or channels on Youtube, you might want to try Youtube Feed. This extension notifies you whenever new videos are available in your YouTube Homepage Feed. Click on the Youtube icon next to the address bar to view all the latest uploaded videos from your friends or subscriptions.
The unread count shown in the icon shows the number of new videos.
4. Youtube Options for Google Chrome
Want to disable all the annoyances on Youtube. It's Youtube Options for Google Chrome extension to the rescue! This extension helps you fix all of Youtube's annoyances include hide in-video ads and annotations and disable auto-play.
On the appearance, you can disable most if not all sections of the Youtube page. You can hide the header, title, video description, comments, video suggestions, footer, branding and playlist sections. You can hide player controls when playing.
Install Youtube Options for Google Chrome
5. SwiftPreview
We've talked about this extension a while back. SwiftPreview enables you to view a Youtube video by simply hover on the video link you found in the video suggestion list on Youtube or any Youtube video links you found outside Youtube.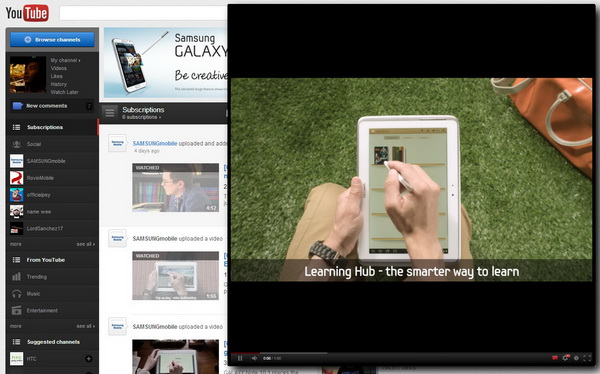 Hit Ctrl to pin the video preview and play the video without leaving your current tab.